Meetings and Events at Otsego resort
Are you looking for a great up north destination for your next meeting or special event? We invite you to enjoy the charming ambiance of Otsego Resort. Known as The Hidden Gem of the North our Bavarian-themed, family-friendly property is located just minutes away from the I-75 exchange in Gaylord, Michigan. We offer a four-season resort experience for meeting attendees, vacationers, golfers and skiers alike.
Celebrating our 80th birthday this year we are proud of our rich history and our continuing commitment to providing exceptional customer service to all those who visit us. We have a variety of different accommodations to ensure the perfect fit for your specific lodging needs. From our premium lodging options of the Hilltop Lodge through our Standard rooms, your stay will sure to be a memorable one.
The Duck Blind Grille is our award-winning restaurant that has a cornucopia of culinary delights that will impress the most discriminating foodie. Guests will enjoy a great meal while overlooking our 27-mile vista view of the Sturgeon River Valley. The Logmark is a favorite weekend spot for both our guests and the locals. This iconic bar offers the perfect location to catch up with friends for a glass of wine or favorite craft beer. With nearly 12,000 square feet of dedicated meeting room space, featuring our Special Events Center that accommodates up to 300, Otsego Resort is the perfect location for your next conference or training program. Whether for work or pleasure make plans to experience Otsego Resort, the Hidden Gem of the North!
For additional information, please see our Sales Team at groupsales@otsegoresort.com, call 800-752-5510 ext. 7 or click below to request a quote for your upcoming event.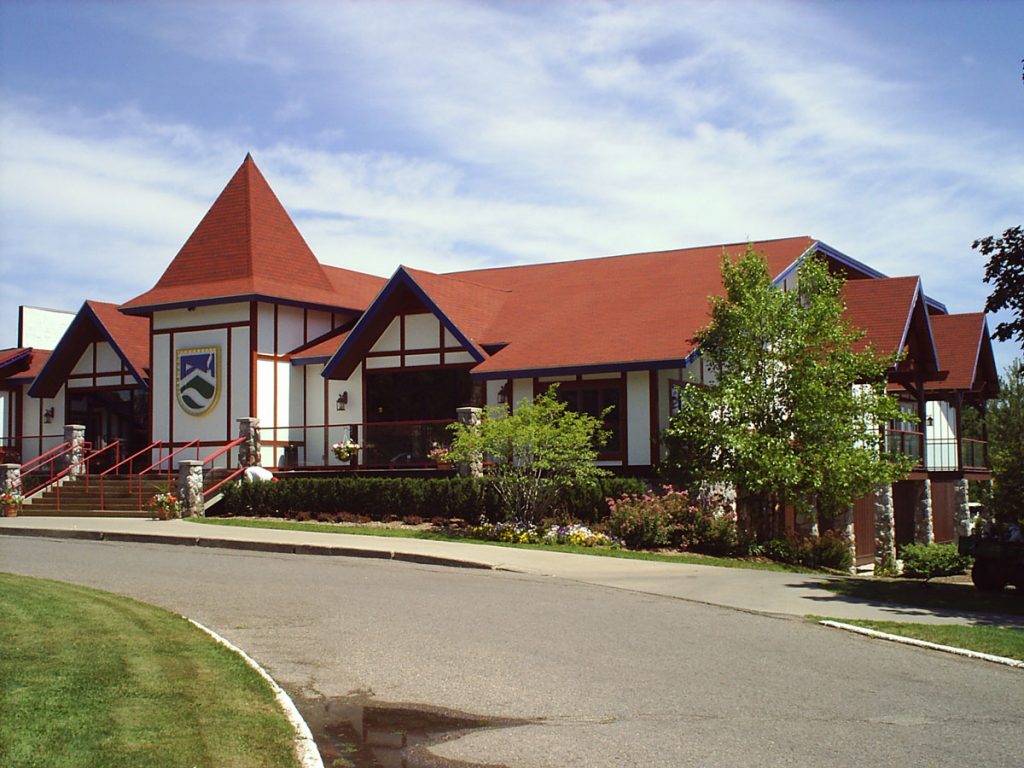 Special Events Center  
As the largest banquet space at Otsego Resort, the Special Events Center offers 5200 square feet of traditional elegance, with a seating capacity of over 200 guests.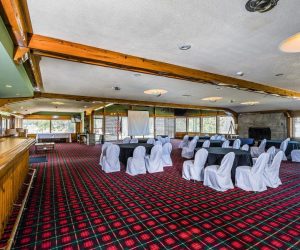 Sitzmark 
The Sitzmark offers northern charm and valley views, complete with the convenience of a large in-room bar and cozy wood-burning fireplace.  With a room capacity of 80, this 2000 square foot space is perfect for a small event.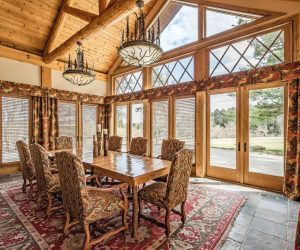 Hilltop Great Room
Complete with a board style dining table that accommodates 12 persons, a living room area filled with leather couches and specialty wooden overstuffed chairs all cozily situated around our ceiling high fieldstone fireplace.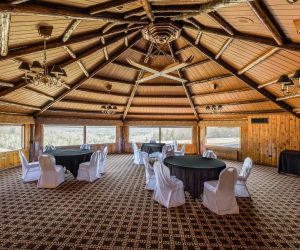 Pontresina Room
Additional event space can be arranged in our intimate Pontresina room, accommodating up to 40 guests for a rehearsal dinner or farewell breakfast.  This private dining space offers the best view in the house!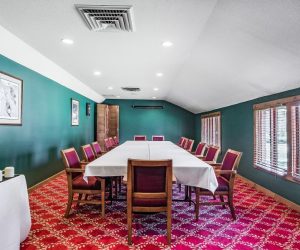 Cedar Room
This light and bright meeting room is complete with a large conference table and plush boardroom-style seating. The Cedar Room is perfect for all your meeting needs. 
Otsego Resort offers a professional setting for all your meeting and conference needs. Our meeting rooms include seating and tables for your guests, (2) 8ft skirted tables, basic white linens, and complimentary water service and pens and paper.
To aid you with your presentation and event needs, Otsego Resort offers audio-visual equipment and conference service enhancements, including:
LCD Projector
Handheld Wireless Microphone
Lavaliere Microphone
8' Projection Screen
Complimentary Wireless Internet
Stage Riser
Flipchart
Dance Floor
Complimentary Podium
For additional item availability and pricing, please see our Sales Team at groupsales@otsegoclub.com or 800-752-5510 ext. 7.
Extend Your Ski Time By Staying at Otsego Resort
On-site bed and breakfast-style accommodations and condominium and log cabin vacation rentals, the award-winning cuisine of one of the finest restaurants in Northern Michigan, all give Otsego Resort an appealing, quality atmosphere.